Dr. Fixit 100 Pidiproof Lw Super 20 Kg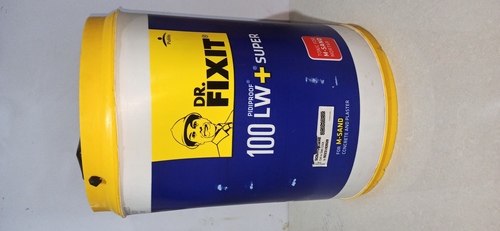 Dr. Fixit 100 Pidiproof Lw Super 20 Kg
Price And Quantity
Kilograms/Kilograms

160 INR
Product Specifications
Liquid Plasticizing & Waterproofing Compound

13 @ 30 deg
Waterproofing of concrete and cement sand mortars

Waterproofing of concrete and cement sand mortars
Delays Corrosion - Makes concrete more cohesive, hence protects steel better against corrosion.
Product Description
Dr. Fixit LW+ Super is specially formulated integral liquid waterproofing compound composed of surface active plasticising agents, polymer & additives specially formulated to work with M-Sand (Manufactured Sand). It is used as admixture for site-mixed cement concrete, mortar & plastering. It makes concrete cohesive and prevent segregation & facilitates excellent retention of workability. In addition, to lower water cement ratio it eliminates chances of bleeding and shrinkage cracks in mortar.
Typical Applications

RCC Slab
Waterproofing of concrete and cement sand mortars
Internal and External plastering
Features
Delays Corrosion - Makes concrete more cohesive, hence protects steel better against corrosion.
Improves workability with M-Sand - Facilitates easy placing and good compaction of mixed cement concrete and plaster mortar/ screed specially made with M-Sand.
Waterproof concrete & mortar - Increases durability by improving waterproofing of concrete.
Increase strength and durability - The setting time and compressive strength of the concrete remains within the specification limits.
Compatibility - Being a liquid, easily dispersible & compatible with concrete/mortar mixes.
Shrinkage - Reduces shrinkage crack development in plaster & concrete.
Packaging

20 litre

Method of Application
Charge cement & aggregates to concrete mixer as per the mix design, mix in dry state for 1-2 minutes.
Start addition of 75-80% mixing water & mix for 2-3 minutes.
Dr. Fixit LW+ Super is added as per the recommended dosage into the remaining mixing / gauging water, then add to concrete mixer & mix for another 2 minutes.
Place the concrete or apply plaster, as needed.
Cure the applied mortar or concrete as per good construction practices.
Precautions & limitations
Do not add Dr. Fixit LW+ Super directly to dry cement & aggregate mix.
Maintain water-cement ratio as low as possible.
Do not increase the dosage of Dr. Fixit LW+ Super than the recommendation.
Dosage
200 ml per 50 kg bag of cement.

Shelf Life
Shelf life is 24 months from the date of manufacturing. Store in a cool & dry place in unopened condition.

Contact Us
Plot no -728, Khasara 21 , Phase 2 Eden Enclave, Kursi road, Gudumba BKT, Lucknow, Lucknow, Uttar Pradesh, 226026, India
Phone :09918900424