Dr. Fixit 135 Bathseal Tape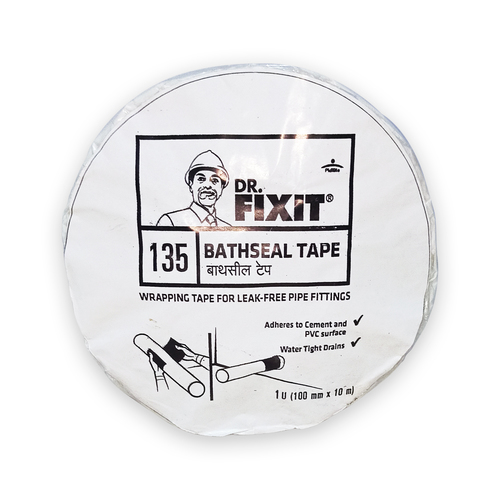 Dr. Fixit 135 Bathseal Tape
Price And Quantity
Product Specifications
Black

For Seamless Waterproofing Membrane On Concrete, Wood, Metal Surfaces
Other

Polymerised Bitumen
Black colour Bitumen tape with Silicone release paper on both side

6807
Bitumen tape with Silicone release paper on both side
Product Description
Dr. Fixit Bathseal Tape is a non reinforced twin side adhesive bitumen membrane which comprises of polymerised bitumen sandwiched between a plastic released films on either side.
Dr. Fixit Bathseal Tape is is mainly used for provided a seamless waterproofing membrane on concrete, wood, metal surfaces. Most ideal for wrapping around the pipes that are inserted through concrete slabs and brick masonry walls in wet areas.
Features

Cold applied, self adhesive and easy to apply.
Bitumen to bitumen adhesion on the laps provides a seamless layer.
Excellent adhesion to metals, PVC, wood, cementitious materials etc.
Improved heat resistance.
Excellent resistance to chlorides, sulphates, dilute acids and alkalis.
Water and vapour proof.
Packaging
1 U (100 mm x 10 m) & 1 U (100 mm x 1.5 m)
Method of Application
1 SURFACE PREPARATION

A smooth, regular and a dry surface is always a must for good application. Substrate should be completely free of any protrusions or cavities. The presence of oily substances, frost or other moisture should be completely avoided.
2 APPLICATION

Application temperature should be between 4oC to 45oC. The installation procedures are to be as follows,

Unroll only the required length, and cut the piece to the desired shape and size.
Place the membrane to be covered and check whether they match with the profile of the marked substrate
Peel off the release film from the underside and keep the release film from the top surface intact. Carefully place the membrane so as to ensure minimum of 150 mm overlap and smoothen the membrane from the centre to the edges in order to drive out the entrapped air.
The release film from the top will be peeled off prior to the laying of the subsequent membranes or materials.
Handling

Dr. Fixit Bathseal Tape membranes are supplied in rolls of 10 m and 1.5 m length and 100 mm width. The membranes can be unloaded by hand or other convenient means, but making sure the absence of any protruded sharp edges nearby to avoid punctures.
Storage

Dr. Fixit Bathseal Tape should be stored in a shaded area on wooden pallets neatly covered by any thick fabric like tarpaulin sheets tied and secured properly to ensure no exposure to sunlight.
Health and safety
Dr. Fixit Bathseal Tape contains a tacky bitumen compound which while applied can adhere to human skin. Such stains of bitumen can be removed by using a cloth dipped in light solvents. In case the affected area is sensitive like the eye please seek medical help.
Shelf Life
Shelf life is 12 months from the date of manufacturing in unopened condition.
Store in a cool & dry place, away from moisture.
Trade Information
Cash Advance (CA)

1 U (100 mm x 10 m) & 1 U (100 mm x 1.5 m)
Contact Us
Plot no -728, Khasara 21 , Phase 2 Eden Enclave, Kursi road, Gudumba BKT, Lucknow, Lucknow, Uttar Pradesh, 226026, India
Phone :09918900424