Dr. Fixit Roofseal 648 Top Coat 20 Litre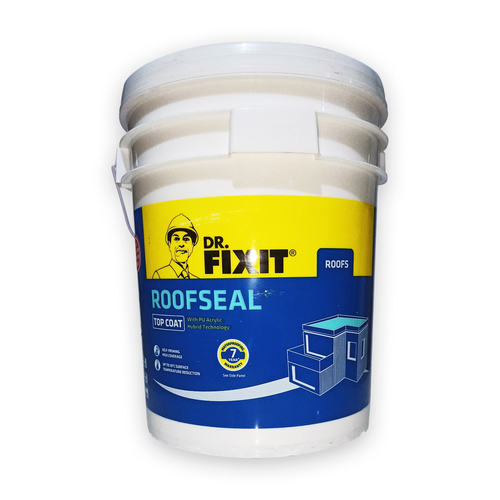 Dr. Fixit Roofseal 648 Top Coat 20 Litre
Price And Quantity
Container/Containers

5410.00 - 5880.00 INR
Product Specifications
Product Description
Dr. Fixit Roofseal Top Coat is a single component, insulating elastomeric waterproof coating for roofs that will offer a seal against water and heat, waterproofing and insulating in easy steps. This monolithic waterproof membrane provides superior crack bridging and long lasting tough weather protective seal for exposed (new and old) roof surfaces. Dr. Fixit Roofseal Top Coat combines the benefits of waterproofing as well as heat reduction in a single product. No additional protective coating is required for roof subjected to foot traffic. Easy to apply by brush/ roller.
Typical Applications

Building Roofs / Terraces Flat & Slope.
Over Existing cementitious waterproofing treatments like sound brick-bat coba, concrete screeds, etc.
Features

Waterproofing Tough durable elastic membrane with > 200% elongation
Good Adhesion Bonds strongly to the substrate
Crack bridging High flexibility of materials enables it to bridge hairline cracks
Tough and abrasion resistant Suitable for light foot traffic
Economical Cost effective and durable coating
Bright white Heat Reflective and UV resistant top coat
Temperature reduction Reduces surface temperature up to 10C in the pick summer
Eco friendly Low VOC
Packaging

20 litre Container
Method of Application
1 SURFACE PREPARATION
Prepare the surface thoroughly by cleaning, washing and removing dust, dirt, oil, grease and loose particles. Well prepared substrate.
Existing roof systems to be visually inspected for conditions that may adversely affect adhesion of performance of newly installed products.
Damaged or hollow portions, sharp edges, etc. must be cut and repaired with a polymer-modified mortar using Dr. Fixit Pidicrete URP.
Ensure that the roof slope of a minimum of 1 in 100 is already provided.
The surfaces shall ideally be in Surface Saturated Dry (SSD) before application of Dr. Fixit Roofseal Top Coat, Do not apply to wet or visibly damp surfaces.
2 CRACKS AND JOINTS

It is recommended to fill fine crack up to 1 mm with Dr. Fixit Roofseal Top Coat directly by brush or roller after cleaning the cracks.
All surface cracks up to 5 mm width should be filled up with Dr. Fixit Crack-X paste.
In existing old terraces with brickbat coba or screeds, the substrate must be checked for its soundness Damaged or hollow portions, sharp edges, remove any weak surface layer etc up to slab level. Just before laying the Polymer modified mortar screed, reinstate the surface with bond coat slurry mix with Dr. Fixit Pidicrete URP in the ratio of 1:1 (1 part URP : 1 part Cement) Note - care being taken that this does not dries before the mortar, screed is placed. Level the surface with Polymer modified mortar mixing with Dr. Fixit Pidicrete URP 10 to 15% by weight of cement in the CM ratio of 1:3.
3 APPLICATION PROCEDURE FOR ROOF (REPAIR & NEW)

Stir well prior to application.
All joints/corners/drainage outlets and penetration points shall be treated prior to all application of Dr. Fixit
Roofseal Top Coat. All corners, gaps, joints, protrusions and outlets should be coated with an extra coat incorporating reinforcing fabric.
Dr. Fixit Roofseal Top Coat may be applied by roller, brush. Apply a coat of Dr. Fixit Roofseal Top Coat (diluted with water in the ratio 2:1) as Self Priming - 9 - 10 Sq.mtr / litre .
Allow coating to dry for 3-4 hours prior to applying first coat & second coat.
Apply two coats of Dr. Fixit Roofseal Top Coat @ 2 - 2.2 Sq.mtr / litre / coat, without water dilution, the rate of application being the same for both the coats. This would ensure correct consumption of material that will deliver a total DFT of 450-500 micron.
Allow the system to air cure for 3 days minimum.
Post Application

Conduct ponding test by filling water up to 50 mm height for 72 hours post air curring to ensure leak-free terrace.
Precautions & Limitations

All corners, gaps, joints, Roof leak repair area & outlets shall be coated with two extra coats.
Do not apply if rain is expected within 48 hours after application.
Do not apply to flat surfaces with poor drainage or where ponding water will exist.
The product is designed only for foot traffic and not vehicular or movement of machinery or equipment.
Do not apply Dr. Fixit Roofseal Top Coat over expansion or moving joints directly.
To achieve the full proof waterproofing, parapet walls should be covered with Dr. Fixit Raincoat.
Durability of coating is determined by the application process, the weather conditions during and after application, the suitability & quality of the workmanship and the total applied coating thickness.
Do not apply if the surface temperature is greater than 40C or below 10C, or likely to fall below 10C during the application or drying period.
Keep the material in close when not in use.
To ensure recommended DFT use forced coverage method.
Any large area more than 300 Sq.mtr, please consult Dr. Fixit Technical service team.
Coated surface must be inspected and cleaned bi-annually to maintain overall reflectivity properties, this will help maintain your overall aesthetic appearance and preserve Dr. Fixit Roofseal Top Coat coating due to environmental factors (such as accumulation of dirt, growth of mold, mildew or algae). Excessive scrubbing should be avoided.
Theoretical Coverage
Self Priming - 9-10 Sq.mtr / litre
First Coat Roofseal Top coat - 2 - 2.2 Sq.mtr / litre
Second Coat Roofseal Top coat - 2 - 2.2 Sq.mtr / litre
Coverage may vary depending upon the texture and porosity of the surface.
Comparative thermal performance of Roofseal Top Coat on roofing. Temperature recorded from 1 pm to 3 pm of roof surface recorded with the aid of laser guided infrared non-contact thermometer. The degree of surface temperature reduction will vary depending on the condition of the existing surface, site location, roof pitch and weather factor.
Shelf Life

Protect the paint material from freezing
Keep containers closed away from heat and flame when not in use; store in a cool & dry place 24 months from the month of manufacture in unopened & proper storage conditions
Health & Safety

Skin Contact: Wash skin with soap & water. Remove contaminated clothes
On eye contact: Immediately splash eyes with plenty of water. Consult Physician if irritation persists
Ingestion: It is based on Water Based Coating system, however, seek medical help
Trade Information
Cash Advance (CA)

20 kg container
Contact Us
Plot no -728, Khasara 21 , Phase 2 Eden Enclave, Kursi road, Gudumba BKT, Lucknow, Lucknow, Uttar Pradesh, 226026, India
Phone :09918900424