Dr. Fixit 113 Fastflex 15 Kg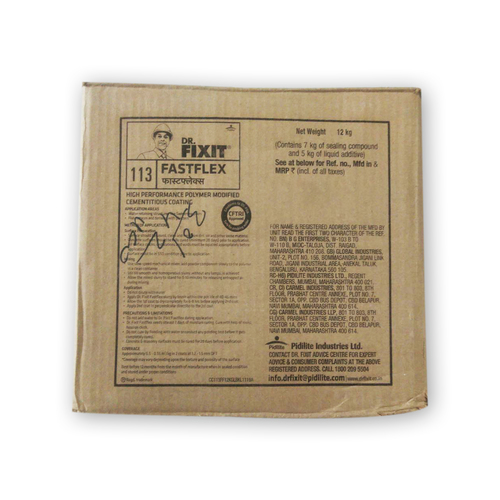 Dr. Fixit 113 Fastflex 15 Kg
Product Specifications
High quality modified acrylic polymer

32149090
Product Description
Dr. Fixit Fast Flex is a high elastic, waterproofing cement based material. With special waterproofing properties, easy to use by plastering, applying by using a brush and roller or trowel. Can be painted or overlaid. Use with waterproofing for non-toxic water tanks, can be used with drinking water. (Passed the water quality test on toxic substances (heavy metals) of the Water Quality Control Department) Provincial Waterworks Authority. After mixing the two parts together, the liquid material can be applied on the desired surface. After drying, it looks like a rubber sheet. It has the property to prevent water seeping through, seamless and flexible, not cracking. Japanese standard
Dr. Fixit Fastflex is a 2-component cement-based waterproofing material, which is powdered (fine sand, sizing), liquid (modified acrylic polymer) and nontoxic substances, environmentally friendly - free Volatile Organic Compound (VOC), excellent waterproofing property - no leakage up to 10 m. hydrostatic pressure
Area of Application
Concrete foundations, basements wall and lift pits.
Swimming pools, water tanks and reservoirs.
Concealed roofs, parking decks, bathroom, toilet, kitchen, balconies and planters.
Any other concrete, cement or masonry surface subject to damage from moisture.
Method of Application

1. Surface Preparation

Allow new concrete and masonry substrate to fully cure prior application.
All surfaces must be free from oil, grease, wax, dirt or any other form of foreign matter which might effect adhesion.
Spalled Concrete must be sound before applied.
Substrate should be reach a "Saturated Surface Dry" (SSD) condition (damp, without standing water)
2. Mixing

Use Portland cement mechanical mixer at slow speed; add product powder part to liquid part in a clean container until a smooth and homogenous slurry mixture is achieved.
Allow the mixed slurry to stand for 5-10 minutes for releasing air-trapped during the mixing prior to application.
Mixing material must be use within recommend pot life.
3. Applications

Dr. Fixit Fastflex slurry can be applied by brush or roller. DO NOT dilute with water.
Recommend Coverage rate is approximately 1.1 kg./m2/coat for 1 mm. (Minimum 2 coat.).
Allow the slurry to cure for at least 15-30 min. before applying second coat. Do not leave the first coat to dry longer than 8 hours.
For tile adhesive application on surface allow surface to cure for 3 days prior.
If first coat was cure over 8 hours, fix surface by applying 2 to 3 coats of Dr.Fixit Pidifin 2K for desire waterproof surface thickness or fix by applying Dr.Fixit Fevimate XL tile adhesive to act as top coat protection for Dr.Fixit Fastflex.


4. Curing
For maximum protection, allow 12 to 24 hours curing time after second coat.
Leave Dr. Fixit Fastflex at least 7 days to cure before filling or sealing water to test leaks.
Precautions & Limitations
Dr. Fixit Fastflex is not suitable for traffic area application.
Dr. Fixit Fastflex is a premeasure package, do not dilute with water or add more sand or cement.
Dr. Fixit Fastflex material should have topcoat coating over it. Do not leave it bare to the sun at all times.
Do not leave first coat dry longer than 8 hours.
Contact Us
Plot no -728, Khasara 21 , Phase 2 Eden Enclave, Kursi road, Gudumba BKT, Lucknow, Lucknow, Uttar Pradesh, 226026, India
Phone :09044072226