Dr. Fixit 304 Powercrete 50 Kg Chemicals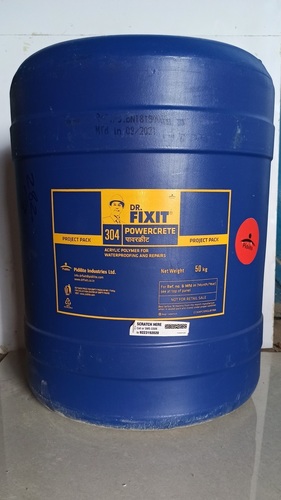 Dr. Fixit 304 Powercrete 50 Kg Chemicals
Price And Quantity
Product Specifications
A tough,hard wearing,breathable waterproofing system for residential,industrial,housing and co

White Crystal
38244010

A tough,hard wearing,breathable waterproofing system for residential,industrial,housing and co
Product Description
Dr. Fixit 304 Powercrete is a acrylic polymer based composite waterproofing system when used in combination with cement, fibre mesh, silica sand, etc.
Typical Applications
Concrete structures like sunken portion, toilets, balcony, basement, chajjahs, terrace, concrete repairs and water retaining structures.
Features

A tough, hard wearing, breathable waterproofing system for residential, industrial, housing and commercial buildings.
Can be applied in uniform thickness to horizontal and vertical surfaces.
Excellent bond to most building materials.
Reduces or prevents salt penetration into concrete.
Suitable for exterior coating.
Highly durable for terrace & wet area application.
Provides tough, flexible, hard wearing surface for waterproofing.
Is non-flammable and does not give off toxic gases, when exposed to fire.
Packaging
50 kg container

Method of Application

1. For waterproofing

Surface Preparation

Prior to application of Dr. Fixit Powercrete, ensure to clean the substrate which should be free from all the dust, foreign particles, loose aggregate and oil grease etc. This can be done with the help of scarifying, grinding, water jetting and sand blasting etc.
The surface should be wetted, well prior to application, thoroughly with water to get SSD condition.
All the depression or pin holes /pot holes to be repaired using Dr. Fixit Powercrete modified mortar in mixing ratio of (1 kg cement : 1.50 kg silica sand : 0.50 kg of Dr. Fixit Powercrete)
Coating Application

Mix Cement with Dr. Fixit Powercrete in ratio of 2:1 (2 parts of OPC: 1 part Powercrete) by weight, (always add powder to liquid for all applications).
The mix should be stirred thoroughly until smooth homogeneous paste is obtained.
Apply first coat over SSD condition substrate.
Apply and unroll fibre mesh evenly on the wet coating before it dries out on larger areas.
Using a nylon brush, apply 2nd coat of Dr. Fixit Powercrete coating over the fiber mesh so as to cover the fabric, allow 5-6 hours of air drying before application of 3rd coat of Dr. Fixit Powercrete slurry coating over the surface if required.
Provide polymer modified protective plaster of 15-20 mm thick over the coating to ensure safety from mechanical damage.
Curing

Moist curing should be done for a period of 3 days by spraying / sprinkling of potable water after about 6 hours from the time of application of the final coat.
After moist curing the coating shall be allowed to dry before submersion in water.
Do not allow the rapid drying of the coating by covering the coating with help of polythene sheet in case of high humidity and windy condition.
2. For Repair works

Modified mortars : All the repair mortar modified with Dr. Fixit Powercrete shall be used for all renovation works in concrete substrate.Add 10-15% of Dr. Fixit Powercrete by weight of cement to the prepared mix of cement and sand mortar in ratio of 1:3 and repair all the patch work as per the suitability of the job.
Precaution & Limitations
Dr. Fixit Powercrete should not be used in isolation of cement.
Dr. Fixit Powercrete shall be applied to the substrate temp above 10

o

C to below 40

o

C
Ensure to provide a protective plaster over the final coat to avoid mechanical damage.
Shelf Life
Best before 18 months from the date manufacture when in sealed pack and stored under proper condition.
Store in a cool & dry place in unopened condition away from direct sunlight
Coverage
Waterproof coating mix proportion 2:1 (.50 Kg cement : .25 Kg Dr. Fixit Powercrete) per sqm coat
The coverage varies as per the nature & porosity of the substrate.

Trade Information
Cash Advance (CA)

1-7 Days
Contact Us
Plot no -728, Khasara 21 , Phase 2 Eden Enclave, Kursi road, Gudumba BKT, Lucknow, Lucknow, Uttar Pradesh, 226026, India
Phone :09918900424