Dr. Fixit 603 Newcoat 20 Kg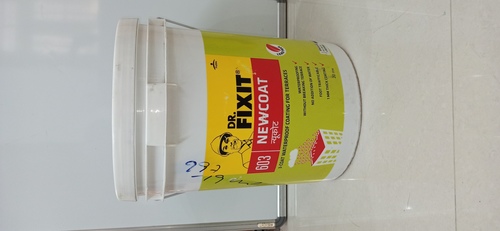 Dr. Fixit 603 Newcoat 20 Kg
Product Specifications
Rapid chloride permeability Very low

Liquid
Terrace Waterproof Coating System

White
Product Description
Dr. Fixit Newcoat is a heavy duty terrace waterproof coating system, composed of specially developed highly elastic & resilient acrylic polymers, properly selected & graded fillers, lightfast & weather durable pigments, micro-fibres, additives & best quality fungicidal in water medium. It is used as a liquid applied waterproofing membrane for all types of building terraces. Dr. Fixit Newcoat is a three-layer system with coats in different colours ensuring proper build-up of the thickness, making it a reliable waterproofing system. The coating performance can be enhanced by providing a fibre mesh that is embedded or sandwiched between the coats.
Typical Applications
Building roofs / Terraces Flat & sloping.
Over existing cementitious waterproofing treatments like brickbat coba, concrete screeds, etc.
Features
Film thickness - Provides higher dry film thickness of 1 mm in three coat application
Crack bridging - Bridges cracks up to 2 mm width
Application advantage - No need to remove existing sound brickbat coba, plaster, concrete surface
Suitability - Can be used for flat as well as sloping roofs
Strength - Higher tensile strength, tear resistance & bond strength with cementitious substrates
Resilience- Forms highly elastic & resilient coating so helps to withstand the structural movements
Durability - Resistant to UV & weather conditions
Abrasion resistant - No additional protective coating is required for roof subjected to foot traffic
Ease of application - Can be applied by brush & roller easily
Weight addition - Light in weight does not add extra weight over the roof
Toxicity - It is non-toxic in nature
Breathability - It is breathable
Easy to recoat existing surfaces coated earlier with Dr. Fixit Newcoat.
Method of Application

1 SURFACE PREPARATION

Prepare the surface thoroughly by cleaning, washing and removing dust, dirt, oil, grease and loose particles.
In existing old terraces with brickbat coba or screeds, the substrate must be checked for its soundness. Damaged or hollow portions, sharp edges, etc. must be cut and removed till the mother slab. The slab should be recoated with slurry of Dr. Fixit Pidicrete URP and cement in 1:1 proportion. After drying, the brick bat coba in that portion should be reinstated by mixing Dr. Fixit Pidicrete URP in the base slurry as well as while doing the top coba.
In areas, where the coba is sound, the surface cracks must be filled with Dr. Fixit Crack-X or polymer-modified mortar in case cracks are wider than 5 mm should be repair using of Dr. Fixit MPB / URP .
Ensure that the roof slope of a minimum of 1 in 100, is already provided.
Bitumen based waterproofing treatments if existing, must be completely removed by mechanical scarification or by any other effective mechanical means.
2 APPLICATION

Dilute 2 parts of Dr. Fixit Primeseal with 1 one part of water. This dilution will cover 7 to 8 sq.mt. Allow it to dry for 6 to 8 hrs.
Apply 1st coat of Dr. Fixit Newcoat at the rate of 2 sq. mt. per litre (Make grid lines of 1 mtr by 1 mtr on the surface with chalk for measuring application coat of 2 sq. mt.)
An open woven glass fibre mesh of 2.5 mm x 2.5 mm must be sandwiched between the first and second coat. While the 1st coat is still wet, place the fibre mesh on it.
Dr. Fixit Newcoat to be applied with brush or roller in one direction only. Check to see no void surface is left untreated / uncoated. Allow the first coat to dry for 6-8 hours.
Apply second coat of Dr. Fixit Newcoat with the same application coverage. Application direction of second coat should be perpendicular to that of the first coat. Check to see no void surface is left uncoated with second coat. Allow second coat to dry for 6-8 hours.
Apply third coat of Dr. Fixit Newcoat at an application direction that is perpendicular to that of the second coat with same application coverage rate. Check to see no void surface is left untreated / uncoated. All coats should be applied in direction perpendicular to each other.
The sequence of colours of Dr. Fixit Newcoat can be decided depending on the desired top coat colour.
In case only two colours are being used, ensure that the colour of the first and the third coat are the same.
This would ensure correct consumption of material that will deliver a total DFT of 1 mm.
Drying time between coats will be 6 to 8 hrs.
Allow the system to air cure for 7 days minimum. A total thickness of 1 mm must be achieved when Dr. Fixit Newcoat is dry.
7 days after application of Dr. Fixit Newcoat, it should be checked for its adhesion to the substrate. For this, mark a square of 5 cm x 5 cm, for every 200 sq. m of the area.
Cut the square with a knife diagonally across the square. Rip the coating and check the coatings thickness with vernier callipers, to see if the dry film has an average thickness of 1 mm. Once these tests are done, reapply Newcoat over these portions, in accordance with the regular procedure.
3 MAINTENANCE & RECOATING OF DR. FIXIT NEWCOAT

Over a period of time or some years, if Dr. Fixit Newcoat has developed cracks on exposure to weathering or extreme temperature variations, it is extremely easy to recoat over it again, with only one coat of application of Dr. Fixit Newcoat. Cracks if any, can be treated by placing a fibre mesh over a recoat, while it is still wet. After this dries, it would need an additional coat over the mesh to strengthen the area. In rest of the area where there are no cracks or damage on the surface, you can just go in for only one coat of Dr. Fixit Newcoat, after properly sanding the surface.
4 POST APPLICATION

Conduct ponding test by filling water up to 50 mm height for 48 hours post air curring to ensure leak-free terrace.
Precautions & Limitations

All corners, gaps, joints, Roof leak repair area & outlets shall be coated with two extra coats.
Do not apply during rains; substrate MUST be in SSD condition for application of primer.
The product is designed only for foot traffic and not vehicular or movement of machinery or equipment.
Do not apply Dr. Fixit Newcoat over expansion or moving joints.
To achieve the full proof waterproofing, parapet walls should be covered with Dr. Fixit Raincoat.
Never dilute Dr. Fixit Newcoat with water for ease of application.
Do not apply when ambient temperature is below 100C or above 350C.
Keep the material in close when not in use.
Trade Information
Cash Advance (CA)

20 kg container
Contact Us
Plot no -728, Khasara 21 , Phase 2 Eden Enclave, Kursi road, Gudumba BKT, Lucknow, Lucknow, Uttar Pradesh, 226026, India
Phone :09918900424